Form a team with your friends or make new friends while competing.
Indoor Volleyball
Spring Flag Football League
Register for all intramural sports leagues through imleagues.com.
Special Events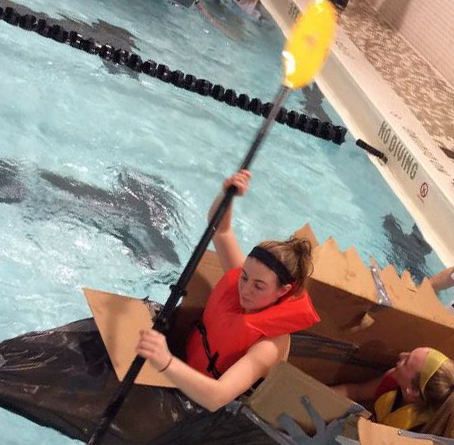 Recreational special events are a way for students to be active on campus in various ways that do not always require ability in sports. Events such as the Cardboard Canoe Race are great opportunities for students and their friends to enjoy the facilities offered and be active on campus. The Cardboard Canoe race involves teams of 3 or 4 people building boats out of cardboard using their best strategy to making it actually float and canoe in the water, and then testing their designs in the pool in one on one races one length of the pool (25 yards)!
Friday, March 3 – Cardboard Canoe Race
Wednesday, March 22 – Delta Dodge Cancer Fundraiser
Wednesday, March 22  – Carolyn Mungai Cycle Charity Fundraiser – Woodruff Hall Studio
Friday, March 31 – Hoops For Heart 3v3 Basketball Tournament, benefiting the American Heart Association. Sponsored by the Physical Education Majors Club
Saturday, April 1 and Sunday, April 2 – Chinese Student Scholar Association Basketball Tournament
Tuesday, April 4 – Annual Health Fair
Friday, April 7 – Relay for Life Annual Fundraising Event
Friday, April 21 – Annual Spike It Volleyball Tournament during Pantherfest