Group Fitness Classes
Work out in a group setting for extra motivation.
Each semester we offer several group fitness classes to students, faculty and staff. Group Fitness is for everyone, regardless of your fitness level! Our classes cater to a wide range of interests, abilities and times to suit your schedule.
How to Register for Classes
Classes include aerobic conditioning, strength and endurance training; as well as weight-based and mind-body workouts.
Spring and Fall Semester Registration
Classes are free for faculty/staff and students. To register stop by the Campus Rec Office in Woodruff Hall 240 or register online using your Adelphi username and password.
Create an account with IMLeagues 
Click on the "Group Fitness" tab and sign up and reserve a spot in the class up to 24 hours in advance! 
Once you click on the "sign up" tab, it will take you to the waiver form. Read and accept the terms and conditions of the waiver.
You will now be able to attend any group fitness class of your choosing!
Please note: Classes and locations are subject to change.
Winter Break Schedule
Class run January 3–January 22, 2018. No class January 15.
The one-time fee for the group fitness classes during the winter break is $5 students and $10 for faculty and staff. Please stop by the Campus Rec office in Woodruff 240 to make a payment. Once you pay the Winter Break Group Fitness fee at the office you will be able to participate in all classes. 
Class registration on IMLeagues opens 48 hours prior to each class. You must sign up for every individual class you want to take! 
---
Mondays
12:15 p.m. – Barre with Susan in Studio
5:15 p.m. – Power Yoga with Stephanie in Studio
---
Tuesdays
12:15 p.m. – Hatha Yoga with Dianne in Studio
4:45 p.m. – Cycle with Edna in Studio
---
Wednesdays
12:15 p.m. – Step & Sculpt with Louise in Studio
5:15 p.m. – Power Yoga with Stephanie in Studio
---
Thursdays
12:15 p.m. – Hatha Yoga with Dianne in Studio
4:45 p.m. – Zumba with Edna in Studio
---
Fridays
12:15 p.m. – Cycle with Louise in Studio
---
Locations
Studio is located in Woodruff Hall, Room 304
Woodruff Hall Gym is located on the 2nd floor of Woodruff Hall
Racquet Courts are located on the 3rd floor of Woodruff Hall
*New* Functional Training Studio is located on the 3rd floor of Woodruff Hall (soon to come)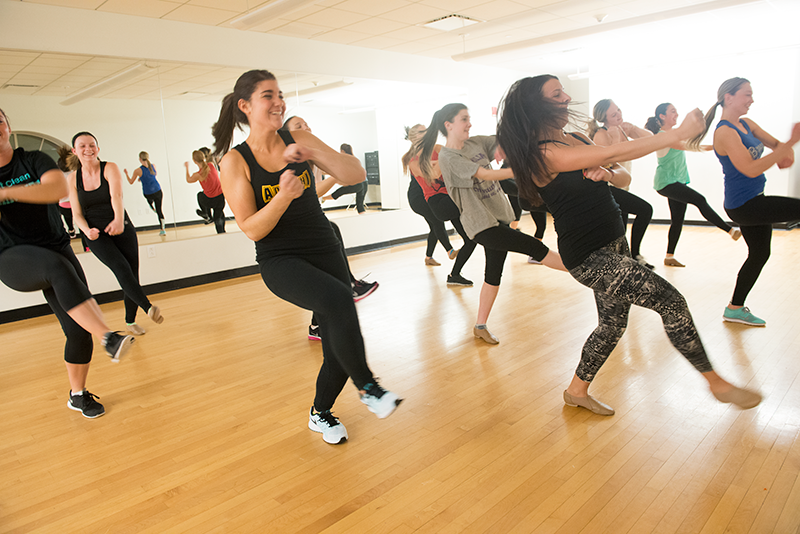 This upbeat, energy pumping class builds on muscular endurance and increasing heart rate as members go through circuit style movements involving kettlebells, TRX, and free weights. Expect challenges, team competitions and much more during this 45-minuteheart pumping workout all while playing today's greatest hits! This class is open for all levels.
Boot Camp is a type of High Intensity Interval Training (HIIT) Class. Boot Camp classes are designed to build strength and cardiovascular fitness through a variety of intense intervals exercises over a 45 minute period of time. This class may use jump ropes, body weight, free weights, steps, kettle bells and more!
We will strengthen and tone the core area of the body including your arms, abdominals, back, and buns! Let's kick some butt and burn some calories in this quick tracked class which will leave you begging for more.
Are you all about cardiovascular fitness? Our cycle classes will challenge you as we spin, sprint, jump, and climb to the top of the mountain to meet our fitness goals. With just forty five minutes you will burn calories, get a full body workout and enjoy the great atmosphere of our class!
The popularity of high intensity interval training is on the rise. High intensity interval training sessions are commonly called HIIT workouts. This type of training involves repeated bouts of high intensity effort followed by varied recovery times. HIIT workouts tend to burn more calories than traditional workouts, especially after the workout.
 Cardio kickboxing is a group fitness class that combines martial arts techniques with fast-paced cardio. This high-energy workout challenges the beginner and elite athlete alike. Build stamina, improve coordination and flexibility, and burn calories as you build lean muscle with this fun and challenging workout.
Power Yoga is an intense, invigorating class rooted in strength and fluidity of movement, connecting the two together through breath for a full expression of the self. Based on "Bhavana", or "Feeling State" students are encouraged to express themselves freely as to how they feel, connecting their body, mind, and spirit into one. A "dance on your mat", this class offers to you both a challenging workout and a healing journey for you to embark on!
TRX® Suspension Trainer, a highly portable performance training tool that leverages gravity and the user's body weight to complete hundreds of exercises. You're in control of how much you want to challenge yourself on each exercise because you can simply adjust your body position to add or decrease resistance. The TRX® Suspension Trainer delivers a fast, effective total-body workout, helps build a rock-solid abdominals, increases muscular endurance, benefits people of all fitness levels.
Our yoga classes are great for all level yogis! Hatha simply refers to the practice of physical yoga postures, meaning your Ashtanga, vinyasa, Iyengar and Power Yoga classes are all Hatha Yoga. The word "hatha" can be translated two ways: as "willful" or "forceful," or the yoga of activity, and as "sun" (ha) and "moon" (tha), the yoga of balance. Hatha practices are designed to align and calm your body, mind, and spirit in preparation for meditation.
"Sculpt, Strengthen and Lengthen" You will leave "addicted" to this dynamic full body workout that is a blend of barre and yoga: Efficiently targeted movements at the ballet barre to sculpt thighs, lift seat, and improve posture. Light weight work for upper body strengthening. Yoga sequences for stretching, lengthening and balancing. Core focus to "fire up" your abdominals.
Perfect For everybody! Each Zumba® class is designed to bring people together to sweat it on. Zumba takes the "work" out of workout, by mixing low-intensity and high-intensity moves for an interval-style, calorie-burning dance fitness party. Once the Latin and World rhythms take over, you'll see why Zumba® Fitness classes are often called exercise in disguise. A total workout, combining all elements of fitness – cardio, muscle conditioning, balance and flexibility, boosted energy and a serious dose of awesome each time you leave class.
Follow